But that it may well be ? It is not the Martians green neon on the grass this time, but it's also weird…
Another photo, with better timing calculated, will tell you more :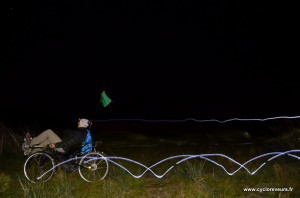 As you can see, our bikes are tunes ! The class not ?
Thanks to Schwartzie for this gift which now equips our two bikes, image proof !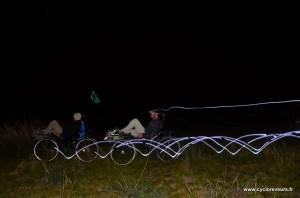 These little lights are very clever : they remain not lit constantly, at the risk of empty batteries in two days, but light up with specific technology :
When a shock shakes the wheel (startup, Donkey, etc.)
When, in the dark, the lamp is lit (car headlights, camera Flash)
They therefore still work after two good weeks, for how long ? We drive a little in the dark, but we take many paths a bit chaotic… We'll see, inch Allah !